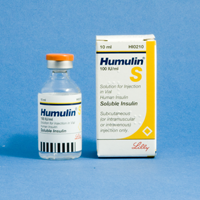 Soluble insulins
can be injected or used intravenously; the suspended insulins or mixes (
cloudy
insulins)
cannot
be used intravenously.
[1]
These short-acting and fast-acting insulin have nothing added to them to delay their onset, as is the case with
suspended
insulins.
Soluble insulins are mostly in the fast-acting or short-acting classes, and are used alone (not as part of a mix) as bolus insulin to cover meals or as Corrective insulin for blood glucose "corrections" when one's blood glucose level is too high.
Short-acting R-DNA/GE/GM insulins:
Huminsulin Normal, Humulin C, Humulin R
Humulin Regular, Humulina Regular, Humuline R
Humuline Regular, Humulin S, Umuline Rapide
Umuline Regular, Humulin ReliOn R (from Eli Lilly)
Actrapid, Novolin R, ReliOn/Novolin R (from Novo Nordisk)
Insuman Rapid, Winthrop Rapid (from Aventis)
References
Edit
↑ Maddison, Jill E.,Page, Stephen W.,Church, David B. (2008). Small Animal Clinical Pharmacology. Saunders Ltd..
↑ Levemir-Page 8-Intravenous Administration Could Cause Acute Hypoglycemia. US-Food and Drug Administration.
Community content is available under
CC-BY-SA
unless otherwise noted.