PZI Vet
PZI by IDEXX
long-acting
Bovine 90% Porcine 10% [1]
U40
protamine
Action in dogs:
Line: IDEXX
Also known as: formerly Blue Ridge PZI, IDEXX PZI
Similar to: other PZI formulations
Use and Handling:
Shelf Life: 36 months
Type: cloudy
When Opened: 28 days room temp.
In Pen: N/A
Notes: Protect from light and heat
Do Not Freeze, store at 2-8C, Resuspend
Do not use if product does not re-suspend 
Do not use intravenously [6]
Intramuscular use is not advised
Do not mix Protamine Zinc insulin in the same syringe with R/Neutral insulin

IDEXX Laboratories manufactured a PZI insulin under the trademarked name PZI Vet [7].
Technical details
Edit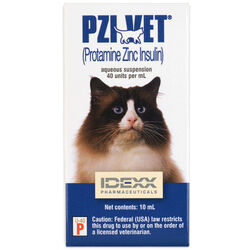 PZI Vet was a 90% beef, 10% pork protamine zinc [8]insulin. [9].PZI Vet was absolutely identical to the old Eli Lilly Iletin I beef/pork PZI insulin,in everything but the strength. Blue Ridge purchased the patent rights for it from Lilly [10] Its duration was similar to that of BCP PZI. PZI is rarely used in dogs but is considered when other insulins are not effective. [3]
Before IDEXX purchased Blue Ridge Pharmaceuticals and re-named the insulin as PZI Vet, this study showing efficacy was done. [11]
PZI Vet came in U40 strength only. You used U40 syringes or used U100 syringes and a conversion table.
PZI contains more zinc and protamine than NPH/isophane insulin and it is primarily the extra protamine which gives it its long-acting duration.[12] The additional protamine in the suspension [13] must first be broken down by proteolytic enzymes AKA proteases, [14] before the insulin in PZI can be absorbed. NPH/isophane insulin contains less protamine than PZI does and because there's less, it is an intermediate-acting insulin.

Usage and handling
Edit
PZI Vet package insert. [15]
It is not advised to dilute or combine PZI Vet with other insulins.
Refrigerate PZI Vet when not in use. It should not lose effectiveness if accidentally left out as long as not in direct sunlight or heat. However, watch for signs of decreased effectiveness (higher blood glucose levels) just in case.
No Combining For PZI
Protamine Zinc PZI [16] insulin cannot be combined with other insulins, due to the amount of protamine in the insulin's formula. [17][18][19][20]
PZI Vet discontinued
Edit
Boehringer Ingelheim purchased PZIVet from IDEXX November 11, 2008. [22]
In past here's how it worked: You got PZI Vet from your vet, or with a prescription from your vet, you could order from an online pet pharmacy such as Drfostersmith.com. [23]
References
Edit
Community content is available under
CC-BY-SA
unless otherwise noted.