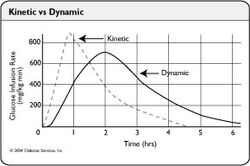 Onset occurs when the insulin reaches the bloodstream and begins lowering blood glucose. Insulins with long onset (2 to 4 hours) are typically the
long-acting
insulins, or those that have long
duration
. Those insulins with the shortest onset times (30 minutes) belong to the
fast-acting
category, or those with relatively short duration. The
intermediate-acting
insulins have a 1-2 hour onset with 8-12 hours of duration.
[1]
Among the fast-acting insulins, those based on human insulin, also called Analog insulins, such as Humalog, Novolog/NovoRapid and Apidra, have the fastest onsets. In general, any insulin that has no type of suspension will have a quick onset.
Analog mixed insulins are suspended by the use of protamine to create special insulin crystals. These mixes also begin with the basic insulins: Humalog or Novolog/NovoRapid.
The long-acting analog insulins Lantus and Levemir don't have the "traditional" types of suspension but they are prolonged by other means. Lantus doesn't form crystals until it's under the skin; the crystals are slow to absorb. Levemir uses a binding to albumin in the bloodstream to prolong its action.
Working with Onset
A predictable onset is a necessary part of working with overlap. Insulins with short onset frequently peak in less than 4 hours after injection. Food can be given to extend onset and peak response.

See also peak, duration, and carryover.

References
Edit
Community content is available under
CC-BY-SA
unless otherwise noted.