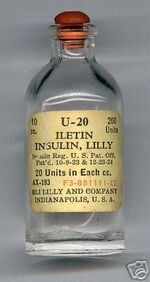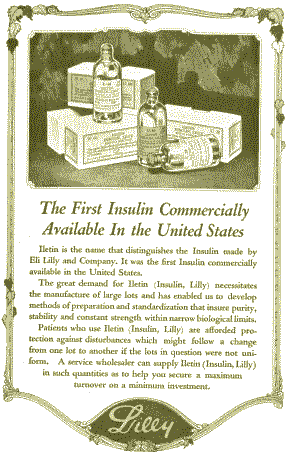 Old ad for Iletin insulins.

Eli Lilly's brand name for the beef, beef/pork, [1] and pork insulins it formerly produced. When the company began producing insulin in 1922, it called its insulin derived from bovine pancreas Iletin.[2][3][4][5] Eli Lily announced the discontinuation [6] of the last of its natural Iletin insulins in July 2005.
Iletin Insulins:
Iletin R, Iletin NPH, Iletin Lente, Iletin Ultralente
Mixed-Bovine/beef and Porcine/pork:
Iletin I R, Iletin I Semilente, Iletin I NPH, Iletin I Lente, Iletin I Ultralente
Iletin II R, Iletin II NPH, Iletin II Lente
References
Edit
More information
Edit
1992 Lilly Insulins Chart
Contains information on all Iletin insulins listed here except Iletin Ultralente-pure beef Ultralente.
Community content is available under
CC-BY-SA
unless otherwise noted.