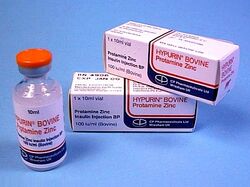 Hypurin Bovine Protamine Zinc [4] is a beef-based PZI insulin made by CP Pharma. [5][6][7]
Comparable insulins, made for veterinary use only are: the U100 strength insulins of BCP PZI and Summit. BCP PZI is compounded in the US, Summit in Canada; only CP Pharma's human-use approved insulin is able to be exported from the UK.For those who are in the UK, Best Pet Pharmacy has this in stock. Both Hypurin Vet Protamine Zinc and Insuvet Protamine Zinc are now discontinued.[8][9][10]
NOAH Compendium-UK [11] officially describes the comparable Insuvet Protamine Zinc as highly purified bovine protamine zinc (PZI) insulin, according to British Pharmacopeia (BP) standards and definitions. It is U100 strength and presented in 10ml vials. It is described [12] as being a medium to long lasting insulin, with onset from 2-5 hours after injection, peak at 12-24 hours, and maximum duration of 24-36 hours.
NOAH goes on to say that onset, peak and duration times have been reported as being variable in dogs.

Technical details
Edit
PZI contains more zinc and protamine than NPH/isophane insulin and it is primarily the extra protamine which gives it its long-acting duration.[13] The additional protamine in the suspension [14] must first be broken down by proteolytic enzymes AKA proteases, [15] before the insulin in PZI can be absorbed. NPH/isophane insulin contains less protamine than PZI does and because there's less, it is an intermediate-acting insulin.
Usage and handling
Edit

Dosage information [16] for Insuvet Protamine Zinc PZI.
This insulin [17] insulin is to be given subcutaneously only.
Store at [18]2-8C; do not freeze. Insuvet Protamine Zinc needs rolling. Product should not be used if it does not re-suspend. The vial has a life of 28 days after first use and a shelf life of 2 years. [6]
Insuvet PZI comes in a 10ML vial. It should be kept refrigerated and rolled gently several times before use to insure it is well-mixed and shows a uniform milky consistency.
No Combining For PZI
Protamine Zinc PZI [19] insulin cannot be combined with other insulins, due to the amount of protamine in the insulin's formula. [20][21][22][23]
References
Edit
Related pages
Community content is available under
CC-BY-SA
unless otherwise noted.