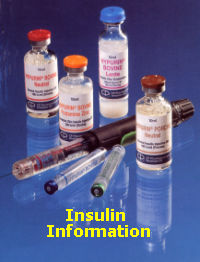 Hypurin Bovine Neutral [1] is a beef-based short-acting insulin made by CP Pharma, [2][3] which has had nothing added to change its speed or length of activity.
A comparable insulin for veterinary use was Insuvet Neutral, made for Pfizer Animal Health, UK; and Hypurin Vet Neutral. Both are no longer being offered.[4][5][6]
A short-acting, soluble, non-suspended insulin produced from r-DNA/GE/GM, bovine, or porcine sources. From 1921 to the 1930's when PZI was developed, R was the only kind of insulin available.
While both R/neutral and semilente insulins are considered fast-acting, they differ in a few ways. As above, there's no suspension or buffer [7] in R/neutral; it's totally dissolved and soluble, meaning it can safely be used intravenously. [8]
The very small insulin particles in semilente insulin are suspended by zinc. [7] Semilente is cloudy, has an acetate buffer and cannot be used intravenously.
R/Neutral insulin cannot be reliably mixed with Lente or Ultralente insulins. [9][10] Semilente can; the ratio of 3 parts semilente insulin to 7 parts ultralente insulin produces Lente insulin. [7]

R/Neutral Insulins
Edit
References
Edit
Related pages
Community content is available under
CC-BY-SA
unless otherwise noted.