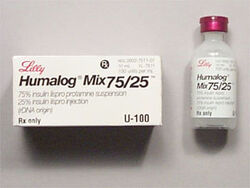 Eli Lilly brand name for their mix of 25% insulin lispro and 75% insulin lispro protamine suspension. [1] Also known as Humalog Mix 25, it is an intermediate-acting insulin. The 75% fraction that is NPL (Neutral Protamine Lispro) [2] is a suspension of crystals formed by combining insulin lispro and protamine.
A study of dogs from 1993-1994 using various fractions of Humalog mixes against human NPH/isophane insulin found only minor differences in the use of Humalog Mix as opposed to NPH/isophane insulin. [3]
Analog Insulins: amino acid sequences
Edit
Amino Acid Sequence of Insulin Preparations [4]
Amino Acid Substitutions

  A-Chain Position  

B-Chain Position

Source
Species
A-8
A-10
A-21
B-28
B-29
B-30
B-31
B-32
Beef
Ala
Val
Asn
Pro
Lys
Ala
N/A
Pork
Thr
Ilc
Asn
Pro
Lys
Ala
N/A
Human
Thr
Ilc
Asn
Pro
Lys
Thr
N/A
Aspart
Thr
Ilc
Asn
Aspartic Acid
Lys
Thr
N/A
Lispro
Thr
Ilc
Asn
Lys
Pro
Thr
N/A
Glulisine
Thr
Ilc
Asn
Pro
Glu
Thr
N/A
Lantus (glargine)
Thr
Ilc
Gly
Pro
Lys
Thr
Arg
Levemir(detemir)
Thr
Ilc
Asn
Pro
Lys
N/A
Myristic Acid

Ala=Alanine Val=Valine Asn=Asparagine Pro-Proline Lys=Lysine Thr=Threonine Ilc=Isoleucine Glu-Glutamine Gly=Glycine
Analog Insulin pharmacokinetics
Edit

These are human activity profiles.
References
Edit
More Information
Edit
Community content is available under
CC-BY-SA
unless otherwise noted.